White is a big colour for Spring/Summer'22, as it is at this time of year most years to be fair. So do you know which white suits you best?  Like most colours, there are a whole array of whites to choose from. Some are crisp, stark and cool-toned, like a pure white, for example, and others are veering towards the creamier, warm-tone end of the spectrum.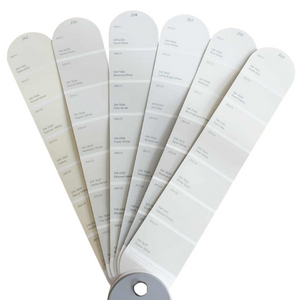 If you've ever tried to choose a white shade of paint for your house you'll know how difficult it can be!
In the first of my seasonal trends video below, I talk to you about how to choose the shade of white to suit you best. I also show you some of the white clothes that are in the shops right now. 
For some people, white looks absolutely fabulous worn head-to-toe and others, myself included, look better wearing it in combination with another colour. 
If you're unsure and would like to understand how colour analysis works, you can read more here.  Or if you'd like to enjoy a colour consultation and find out about your best white, as well as all the other colours that will help you to look healthy and vibrant, simply book a Virtual Colour Analysis or Full Colour Consultation now. It'll be one of the best things you do – it'll help reduce the feeling of overwhelm you get when faced with a sea of colour in front of you and don't know which ones suit you. It will also save you time and money, as you'll be a more efficient shopper and will no longer buy things that end up hanging in your wardrobe unworn.
If you'd like to know more about the other colour and style trends for Spring/Summer'22, my Spring Style Boost Webinar recording is available to buy here.  Just grab a cuppa or something chilled and enjoy a walk through all of the trends from the comfort of your own armchair. I share over 175 different items curated from over 60 brands, so there'd bound to be something to catch your eye, or inspire you to shop your own wardrobe!